Innovating for the Future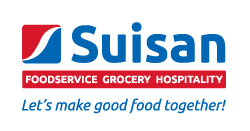 Innovation is important to us at Suisan. It's about finding the right balance between authenticity and investing in the future. We've enhanced our branding to reflect a professional business rooted on the island that will carry us well into the future. We've also developed new marketing capabilities to better serve you. Whether you're stuck at your establishment in town, unable to get to our warehouses to pick up your order or are a new customer, we have a series of avenues to help you get product in an easy, efficient and effective manner. Through online ordering, digital and e-mail promotions and print coupons, we have what you need to get product to your establishment and grow your business with your customers, as well as with Suisan.
No matter what product you need, our foodservice team, fresh produce team and fresh seafood team are excited to work with you. So what are you waiting for? Let's make good food together!